Fishing Charter Palm Beach FL
Top-Rated Fishing Charter in Palm Beach
Offshore and saltwater fishing can be an excellent activity for the whole family to enjoy and bond. It's a fun, outdoorsy way to stir up some adventure, fresh air, and friendly competition among family members. Whether you're a kayaking enthusiast navigating secluded mangroves or like the thrill of trolling motorboats over deep waters in search of Halibut, there's something that everyone is sure to love about the experience of off-shore and saltwater fishing! And don't forget–with patience comes prizes as you haul back ashore your daily catch. This adventurous activity also offers an incredible opportunity to connect with nature while creating fond memories that will last a lifetime.
Setting out on a fishing charter is also an ideal way to get hands-on, practical experience refining your angling techniques. Boating out on the lake or ocean with professionals gives you an up-close opportunity to observe their superior fishing skills and knowledge. With valuable instruction from experienced crew members, a few hours on a charter can transform how you look at, approach, and enjoy fishing – setting your technique far ahead of where it was before boarding. So the next time you're looking for a way to increase your ability in the craft of fishing, why not consider getting onboard a fishing charter? It may just be exactly what you need to hone your skills.
Searching for Palm Beach Fishing Charters Near Me?
If you're planning a day of fun sea fishing in West Palm Beach and searching for Palm Beach fishing charters near me, the REEL E SEA Charters team has you covered. Our charters provide an exclusive range of services for up to six guests. Depending on your preference, you can choose from 4 to 8-hour charters, which include both child-friendly and offshore fishing trips. Our boat has all the needed safety features, modern navigational aids, and fish finders, so you have a successful fishing experience. Pack up your kids, friends, or family, and make the most of your time with us in West Palm Beach.
You're in for a treat when you book a fishing charter at REEL E SEA Charters. You'll be sailing with Captain Rick, an experienced captain who has been offering charters for over 20 years! He's guaranteed to share his extensive knowledge on the best spots to fish and all the tricks to catching the big catches of your dreams. With his wealth of expertise, you'll surely have an incredible experience you won't forget!
We Offer Deep Sea Fishing, Offshore Fishing, & Ocean Fishing!
With REEL E SEA Charters, you have all your fishing needs covered! Our charters come with all the necessary equipment for ultimate convenience and enjoyment. From top-quality rods, reels, tackle and lures to live bait and a cooler full of drinks. Our charters also include fishing licenses, so you don't have to worry about any issues. To make sure you get the most out of your experience, Captain Rick brings along a mate so that you can pick up some new tips about fishing techniques! All this, plus- an onboard restroom for your added comfort – makes REEL E SEA Charters the one to beat for great value and an unforgettable day out on the water. Whether you need charter fishing Palm Beach, FL, ocean fishing Palm Beach, or fishing charter in Palm Beach, you will want to make booking this a priority for your next social outing.
At REEL E SEA Charters, we understand that time is precious. That's why our 28Ft Contender is rigged with 300 horsepower to get you to the fishing grounds in a flash at 50 mph! Accompanied by up to 5 people, this clean, spacious vessel lets you spend more time enjoying your fishing adventure and less worrying about getting there. Whether you're looking for saltwater fishing Palm Beach, fishing charters Palm Beach, or offshore fishing Palm Beach, our charters will ensure you have the best day on the water! We pride ourselves on providing best-in-class Palm Beach fishing charters worth returning to.
With world-renowned attractions such as the Palm Beach Zoo and Rapids Water Park, there are boundless opportunities for fun and entertainment in Palm Beach, FL. Residents can stroll through The Square and visit its unique boutiques and shops for a more leisurely day out. To experience some of Florida's history, the Henry Morrison Flagler Museum offers grandeur and insight into the region's past. For those who call Palm Beach home, it is clear why the city is known for its breathtaking beauty and unforgettable experiences.
Call Today for Saltwater Fishing in Palm Beach, FL!
Palm Beach, Florida, is a delightful place to live. The natural beauty of the region's coastline and sunny climate provides a unique backdrop for life in this coastal city. Residents enjoy many recreational opportunities such as surfing, kayaking, golfing, and sailing the open waters around Palm Beach. The local dining scene offers a wide variety of restaurants, bars and nightlife. Shopping centers abound with luxury stores and art galleries showcasing locally made goods. In addition to its excellent climate, it's easy to get around town with its excellent public transportation system. It truly felt like paradise living in Palm Beach!
Have you always wanted to experience the thrill of saltwater fishing? Look no further than Captain Rick's Charters in Jupiter, FL. With over 20 years of experience navigating the local waters for some of the area's most prized catches, Captain Rick will have you up to your elbows in sea bass, grouper, and much more! Whether taking one on an offshore excursion or participating in a traditional charter boat trip, your days spent on the water with Captain Rick will be full of fun and exciting angling experiences. We cover it all between fishing charter Palm Beach and deep sea fishing Palm Beach. So don't wait—give us a call today to book your charter and start reeling in some unique fish stories.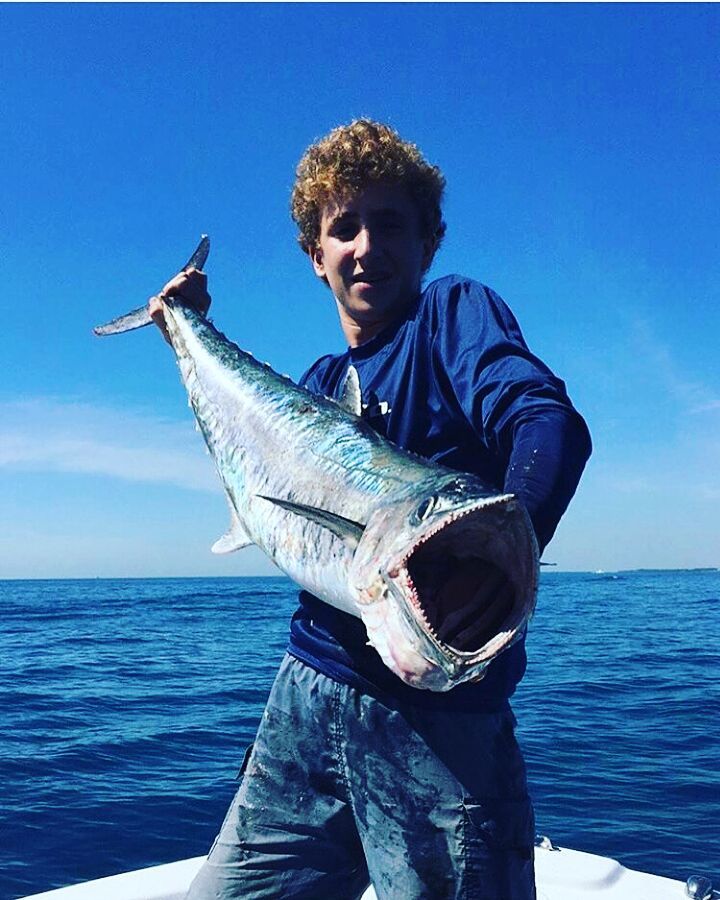 Get In Touch
For any questions or to book your charter contact us today!
Call: 561-396-5293
REEL E SEA Fishing Charters
Palm Beach FL
Choose a boat from our fleet:
28 ft Contender Boat #1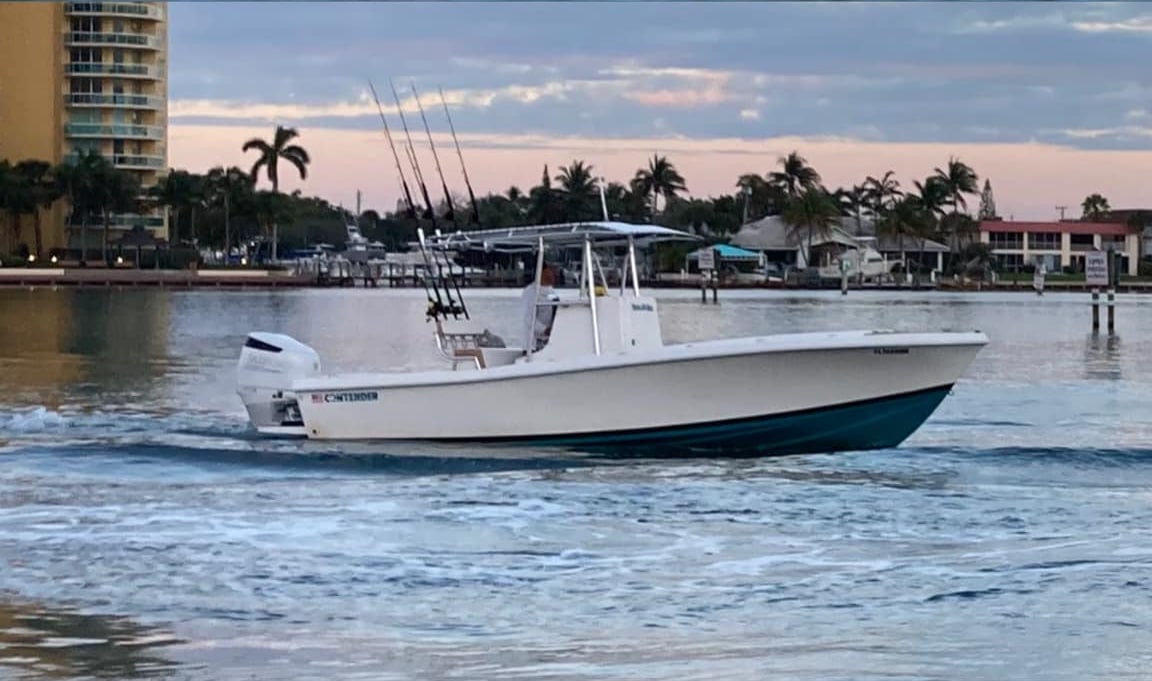 The original 28 foot Contender fishing boat is a family favorite option for an action-packed private fishing charter. All tackle and gear is top of the line Penn reels and Blackfin rods. This boat can make 50 knots so you're fishing in the action shortly after leaving the dock! The required fishing licenses as well as dead bait is included. For groups up to 5 people. All private trips.
$550 for 4 hours  |  $750 for 6 hours  |  $950 for 8 hours
28 ft Contender Boat #2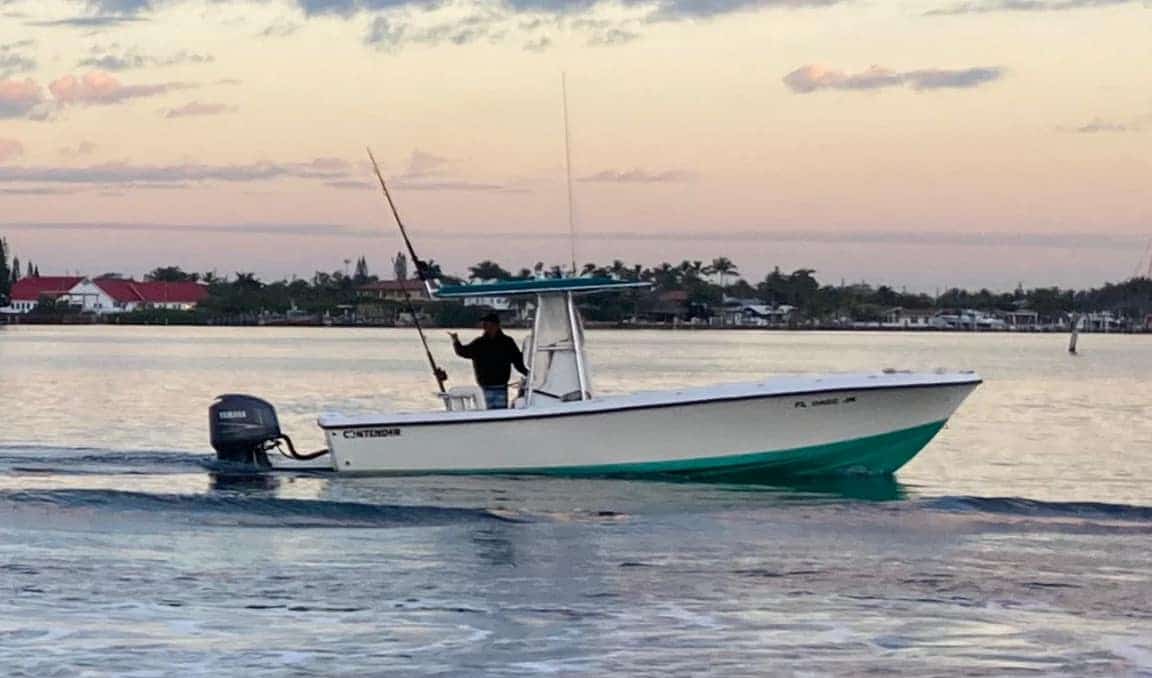 Our second 28 foot Contender fishing boat from our fleet is another budget friendly option to get out on the water for a private fishing charter. All tackle and gear is top of the line Penn reels and Blackfin rods. This is a great option for a child-friendly family charter! The required fishing licenses as well as dead bait is included. For groups up to 5 people. All private trips.
$550 for 4 hours  |  $750 for 6 hours  |  $950 for 8 hours
39ST Contender w/ Triple Yamaha 350's
Cruising speed 50mph, top speed 70mph. Boat is decked out with all state of the art navigation, radar, sonar, JL Audio sound system, auto pilot, and more! Boats are satellite tracked. Boat does have a bathroom on board. All tackle and gear is top of the line Penn reels and Blackfin rods. The 39ST is a proven top of the line tournament winning machine! For groups up to 6 people. All private trips.
$800 for 4 hours  |  $1000 for 6 hours  |  $1200 for 8 hours