Best Palm Beach County Fishing Charters
Fun Inshore & Offshore Fishing in Palm Beach County
REEL E SEA Fishing Charters makes fishing, well, real easy. Captain Rick developed his childhood passion for fishing and turned it into a successful career. We offer 4 to 8-hour charters from West Palm Beach. Our boat, the Reel E Sea, is 28 feet long, with a guest capacity of five. The boat can make 50 knots, which means no time is wasted traveling from the dock to areas you want to fish. We encourage family charters, and we're child friendly. Call now to schedule the best Palm Beach County fishing charters with us! We want to be your go-to fishing charter in Palm Beach County.
Your charter with us includes everything required: fishing rods, reels, all the tackle, lures, live bait, and other necessities. The charter includes the required fishing licenses. Our boat has all the safety features, and up-to-date navigational aids and fish finders. There's a restroom on board, a well for live bait, and a cooler for drinks. There will be a first mate on board in addition to Captain Rick. The mate will help you fish and show you how to use equipment that may be new to you. At the end of the cruise, the mate will clean and fillet your catch.
REEL E SEA Fishing Charters | Palm Beach County
REEL E SEA Fishing Charters will arrange the kind of saltwater fishing you want to do. We offer the best inshore and offshore fishing charters throughout Palm Beach County & St. Lucie County. This includes trolling, kite fishing, wreck and reef fishing, and drift fishing. The kind of fish we target varies because fish patterns change with the seasons. You might want to bottom fish for grouper and snapper or try live bait for pelagic fish like tuna, kingfish, sailfish, or the delicious mahi-mahi. The unique experience of kite fishing is like nothing else with the amazing fish we catch.
Call Today for the Most Experienced Fishing Charters in the Area
Contact us for information about charter availability and reservations. We'll offer advice about what to wear, sunscreens, and everything else you need to know. We want to make sure all your questions are answered to get you charter fishing as soon as possible. We'll make your REEL E SEA cruise fun and we really do know how to catch fish.
Top-Rated Palm Beach County Fishing Charters



Get The Best Fishing
Experience With Us
REEL E SEA Fishing Charters
Choose a boat from our fleet:
28 ft Contender Boat #1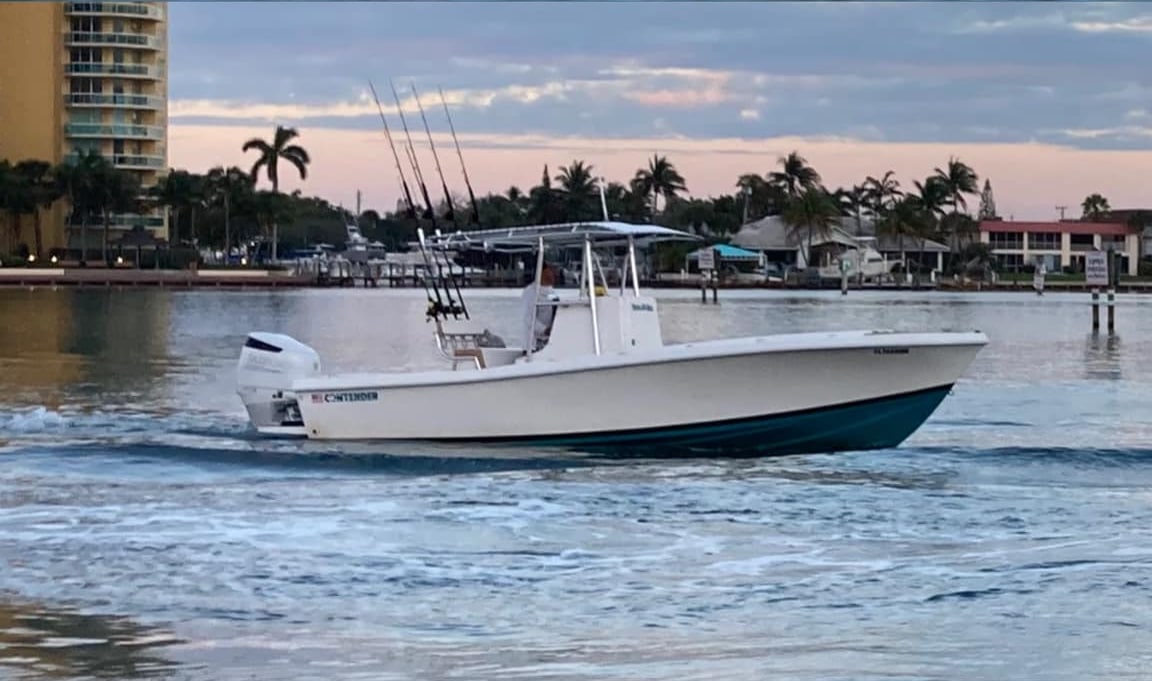 The original 28 foot Contender fishing boat is a family favorite option for an action-packed private fishing charter. All tackle and gear is top of the line Penn reels and Blackfin rods. This boat can make 50 knots so you're fishing in the action shortly after leaving the dock! The required fishing licenses as well as dead bait is included. For groups up to 5 people. All private trips.
$650 for 4 hours  |  $900 for 6 hours  |  $1150 for 8 hours
*** Price includes live bait.
Get In Touch
For any questions or to book your charter contact us today!
Call: 561-396-5293