Fishing Charter Singer Island FL
Top-Rated Fishing Charter in Singer Island
Jumping on board a fishing charter is a fantastic way to hone your fishing technique and boost your angling skills. You can learn the tips and tactics of pro anglers, get a crash course in different equipment and tackle, or explore a new spot to find the best of what's swimming under the surface. Plus, this specialized fishing provides an extreme thrill you can't get anywhere else! The combination of expert knowledge on board plus being out on the open waters makes it hard to beat. And who knows, with enough refining of your technique, you may even make catching dinner look like child's play.
If you're looking for a unique and fun outdoor activity for your family or group of friends, consider going on a fishing charter. You'll get to experience the beautiful views of the lake or ocean, plus have an experienced captain guide you through the best spots for catching various fish. Not only is it a great exercise, but a certain thrill comes from reeling in your first big catch! Specialized charters are available that come equipped with all the necessary gear so all you need to bring is food, drinks, and clothing suitable for spending time outdoors. A fishing charter provides an excellent way to escape and enjoy some quality time in nature without needing to worry about planning everything yourself.
Searching for Singer Island Fishing Charters Near Me?
At REEL E SEA Charters, we invite you to enjoy a fishing experience like no other. Our premier fishing charters in Singer Island are second to none, and we love providing our customers with the best gear and equipment available, so their adventure is as successful as possible. From the minute you step onto one of our boats, you'll know this will be a memorable experience that will exceed all expectations. Whether you're looking for Singer Island fishing charters near me, fishing charters Singer Island, deep sea fishing Singer Island, or offshore fishing Singer Island, our crew has got you covered. We're one of the most state-of-the-art fishing charter Singer Island has to offer.
Captain Rick is genuinely a fisher of renown – he's no novice, having first visited the sea at just six years old! Through the years, his love affair with fishing has only grown, and now he regularly participates in tournaments with some of the most experienced names in the field. He particularly loves going after sailfish, mahi, tuna, kingfish, and wahoo – some of the well-sought-after creatures that abound on this planet – and it certainly shows, as he often comes back with quite a bounty. What started as an innocent fascination in childhood has since grown into a lifelong passion – lucky for us to see!
Singer Island, Florida, is a tropical gem between the Atlantic Ocean and the Intracoastal Waterway. It offers an array of amenities that make a living here truly enjoyable. Singer Island provides plenty of relaxation, exploration, and recreation opportunities, from its pristine beaches to world-class restaurants. With the nearby attractions of Palm Beach, there are endless shopping and entertainment options for residents and visitors alike. In addition, Singer Island offers numerous outdoor activities that allow residents to get close to nature while exploring their surroundings, including kayaking in the lagoon and bike excursions through John D. MacArthur Beach State Park. And with easy access to West Palm Beach Airport, it's no wonder many call Singer Island home – a perfect place to experience all that south Florida has to offer!
We Offer Deep Sea Fishing, Offshore Fishing, & Ocean Fishing!
We make planning your fishing charter as easy and stress-free as possible at REEL E SEA Charters. We provide everything you need for a day on the water: considering all tackle, lures, live bait, the required fishing licenses – even a stowed cooler of drinks! Captain Rick is an experienced captain with a mate to assist with your technique and will ensure you make the most of your time out on the sea. And don't worry – there's also a restroom on board. Whether you're looking for a fishing charter in Singer Island, saltwater fishing Singer Island, or ocean fishing Singer Island, you've docked in the right place.
Are you ready to make some unforgettable fishing memories with our top-notch charters? Palm Beach is one of the most beautiful and productive waterways, and we offer only the best fishing experiences. Whether you'd like to take out an offshore or inshore charter, you won't be disappointed. You'll have plenty of options no matter what time of year it is; when tuna are running or there are kingfish popping up, or of course, if that beautiful sailfish or delectable mahi-mahi has been teasing you. Come on out, and let's make some great fishing stories together!
Singer Island, Florida, is an idyllic beachfront paradise. Whether you're looking for a morning jog on the shore or a stroll along the boardwalk in Ocean Reef Park, there's something to satisfy everyone's desires. For water-faring activities, there's no place quite like Phil Foster Park, complete with boat docks and a private beach for fishing and kayaking. In fact, during the summer, many islanders are spotted out in their boats enjoying the beautiful scenery of living on Singer Island. Recently, condos have been popping up to accommodate those looking to settle down in one of Florida's prime locations. With all this locale has to offer, it's clear why so many people are drawn to living on Singer Island year after year!
Call Today for Saltwater Fishing in Singer Island, FL!
You only need to pick up the phone for the best saltwater fishing in Singer Island, Florida. Our friendly crew will help you plan the perfect outing on one of our sparkling vessels. Whether you're an experienced fisherman or fishing for the first time, our captains offer everything from gear and knowledge to a unique experience. Put your feet up, enjoy some snacks, and let us take care of everything while we show you why we're the best one of the best Singer Island fishing charters out there. So call today and make lasting memories fishing with us!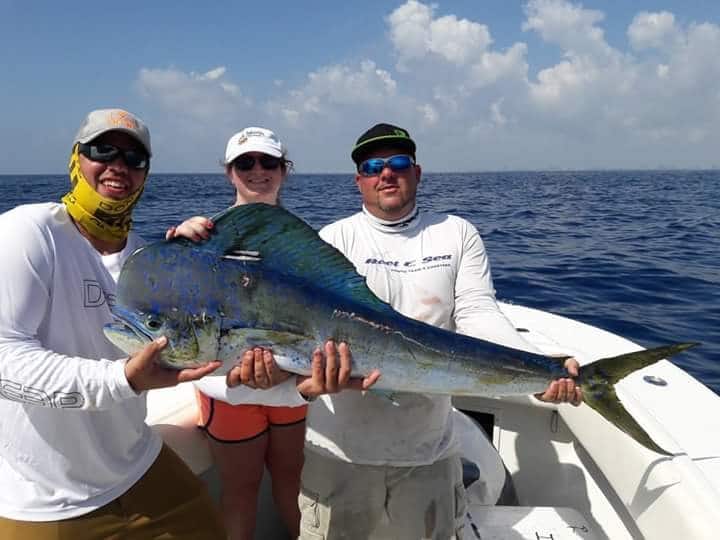 Get In Touch
For any questions or to book your charter contact us today!
Call: 561-396-5293
Premier Fishing Charter Singer Island