Fishing Charter Riviera Beach FL
Top-Rated Fishing Charter in Riviera Beach
Celebrate your next special occasion out on the water with a fishing charter cruise! It is an unforgettable experience for both old and new anglers, allowing you to discover a unique and picturesque setting with friends or family. With customizable packages available to fit any budget or schedule, fishing charters are a great way to ensure your event is enjoyable and hassle-free. Whether grabbing some drinks on board or hosting a full dinner prepared by a crew of professionals, you can find something that perfectly suits your needs while creating everlasting memories. So why not take the plunge today and book a fishing charter for your next big celebration?
Searching for Riviera Beach Fishing Charters Near Me?
Look no further if you are looking for Riviera Beach fishing charters near me! REEL E SEA Charters offers the area's best and safest family fishing experience. With all the latest fishing gear and safety practices, you will get a premier experience. Our friendly crew is trained to ensure everyone has an enjoyable time and feels confident they have chosen the right charter for their outing. Book today for your next fishing trip, and see why we continue to be one of the leading charters in Riviera Beach!
Located in Palm Beach County, Riviera Beach is a great place to call home. It has become increasingly popular due to its coastal views, efficient public transportation, and wide range of recreational activities. People here can take advantage of Peanut Island Park and the Lone Pines Gold course– terrific amenities with plenty of open green space just minutes from downtown. Whether you're looking for fun or relaxation, there's something here for everyone in Riviera Beach. With a population of over 38,000 and growing, this city is one that you should consider calling home if you're ready to start living the Florida dream!
We Offer Deep Sea Fishing, Offshore Fishing, & Ocean Fishing!
At REEL E SEA Charters, we provide an unrivaled experience of the deep sea, offshore, and ocean fishing. No matter your skill level or ambition, we can offer you the perfect charter so that you can make memories to last a lifetime. Fishing with us is straightforward, as everything you need is included in the initial cost – from fishing rods, reels, and tackle to lures, live bait, and other necessities. Whether you're looking for a fishing charter Riviera Beach, saltwater fishing Riviera Beach, or ocean fishing Riviera Beach, trust REEL E SEA Charters for your next fish-catching adventure!
We are fortunate to have Captain Rick as our guide at REEL E SEA Charters. He shares his passion for fishing with clients, having deeply loved the sport since he was a young child. His extensive experience has seen him match up against some of the leading fishermen in the world, showcasing his skill and knowledge. Every day is an adventure for him, working out of our marina and taking travelers around to explore the various spots in the area for a thrilling fishing experience. This long-standing passion for the sea and the art of fishing makes REEL E SEA the best fishing charter in Riviera Beach.
Make the most of your ocean fishing experience with REEL E SEA Charters. Our first mate will be on board with you and Captain Rick to ensure you have an enjoyable adventure. The mate's expertise in fishing will help ensure you catch plenty of fish and maximize your fun from experience. Additionally, the mate is there to instruct on any unique gear or equipment, so you can feel comfortable using new tools as you search for fishing charters Riviera Beach.
Call Today for Saltwater Fishing in Riviera Beach, FL!
Living in Riviera Beach, FL, has its advantages. From the beautiful beaches of Singer Island to the natural wonders of Peanut Island, lives here are never dull! The city boasts some of the most important historical sites in the area, like Diane High Tower Park and Riviera Beach Marina Village, where visitors can explore our rich heritage. Other unique attractions include manatee spotting trips, golf courses, and local events like the annual MusicFest every summer. Locals can enjoy delicious Caribbean cuisine at various excellent restaurants and participate in outdoor activities such as fishing, kayaking, and bird-watching. Whether it's peaceful relaxation or exciting outings that you're looking for, Riviera Beach provides something for everyone.
Celebrations are special occasions that provide a sense of joy and exhilaration. Going beyond the usual party by booking a fishing charter adds extra enjoyment while simultaneously giving your group access to exploring many bodies of water. Our fishing charter comes equipped with an experienced crew and top-quality equipment, meaning your group won't have to worry about obtaining supplies or transportation – allowing them to immerse themselves in their surroundings. You will make your celebration stand out for all its guests by stepping out onto the open seas. Whether it's a unifying team-building experience or simply making priceless memories with close friends, booking a fishing charter will surely be the perfect addition to any celebratory event. Whether you're looking for charter fishing Riviera Beach, FL, deep sea fishing Riviera Beach, Riviera Beach fishing charters, or offshore fishing Riviera Beach, give us a call today to book your saltwater fishing experience!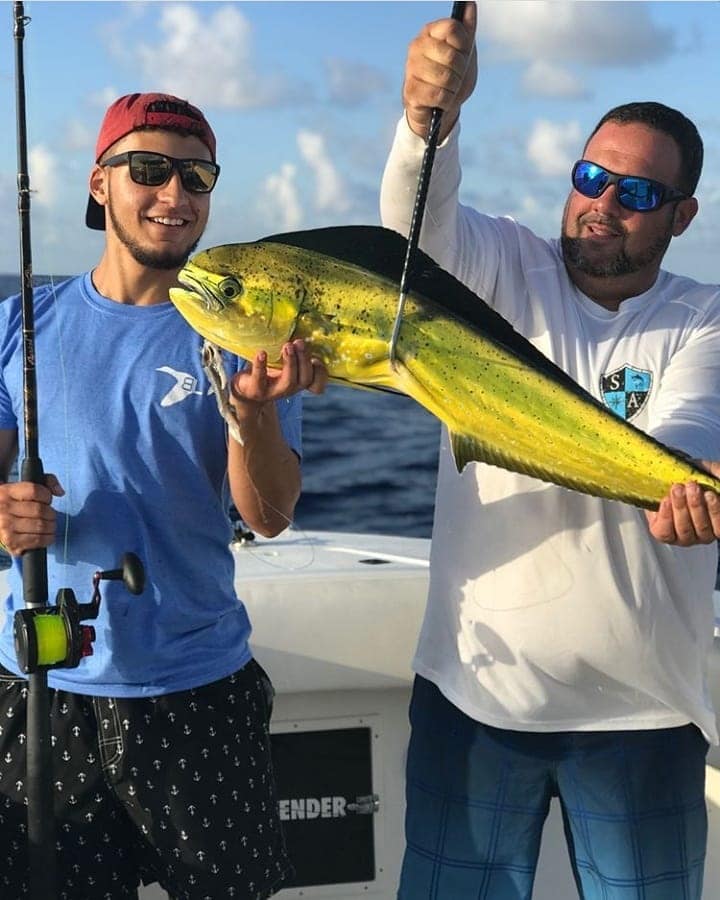 Get In Touch
For any questions or to book your charter contact us today!
Call: 561-396-5293
Premier Fishing Charter Riviera Beach